Roger Ludwig, Director Emeritus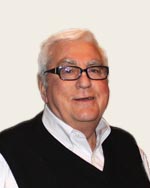 Oshkosh, Wisconsin
Member since: 1971
In 1967 I had an opportunity to view Bill Mackey's impressive collection at an Exhibition of American Bird Decoys at the Paint Art Center in Oshkosh. Seeing these great decoys – the best of the best – just got me hooked.
Background: Roger was a Manager of New Business Development at Hydrite Chemical Co.
Other Involvements: Roger is currently President of the Wisconsin Decoy Collectors Association, and President of the Wisconsin Decoy and Sporting Collectibles Annual Show in Oshkosh held every March.
The Collector: Roger is a long-time collector having begun in 1967. His collecting interest centers around decoys from his home state of Wisconsin, including Evans factory decoys, as well as Mason factory decoys.
Favorite Decoy: A drake Canvasback decoy made by Ralph Bollom of Oshkosh, Wisconsin, a gift from his son William while he was still in high school.
Contact: rogfuzz@charter.net or call (920) 233-0349