Rick Sandstrom, President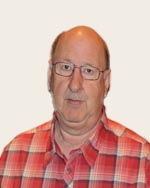 Marion, Iowa
Member since: 1992
My interest in decoy collecting began just prior to my first trip to the duck camp with my dad and grandpa as I was fascinated by the pile of old decoys assembled for the trip. In 1960, I made my first trip to the duck camp at Pelican Lake, Minnesota and was hooked on the experience. I saved a simple block from grandpa's rig and still have it.
Background: Rick spent over 30 years in the Aerospace business with Rockwell Collins in a range of leadership positions in finance, sales, marketing, business development, strategy and corporate development. Rick also served as a Captain in the U.S. Army, was a helicopter pilot and held various roles in operations, logistics and special operations.
Other Involvements: Rick is a lifelong flyer, has flown all over the globe and spends as much time as possible in the field with our Golden Retriever, Topbrass Iowa's Sunshine, Ms. Sophie.
The Collector: Beginning in 1959, Rick has collected a wide range of decoys beginning with a flock of 88 different Michigan cans, a group of wood ducks, Evans factory and many old survivor hunting decoys. He hunts with a 16 gauge double and have several rigs of wooden decoys in use.
Favorite Decoy: Rick's favorites are Cameron McIntyre's green wing teal pair and wood duck, Mike Lashbrook's teal pairs, an Evans mallard collection, and a Ben Schmidt coot that survived a boathouse fire.
Contact: sandstrom@nadecoycollectors.org or call (319) 364-8556