Joe Tonelli, Director Emeritus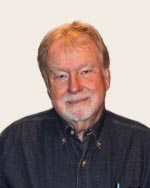 Spring Valley, Illinois & Lake Andes, South Dakota
Member since: 1966
My interest in collecting sprang from my days growing up and hunting in the Illinois River Valley. Through this passion, I've had the pleasure of knowing, learning from, and calling friends many of pioneers of decoy collecting including Bill Mackey, Hal Sorenson, Joe French, Will Pennington, Gene Konopasek, Jim Foote, Don Clark, Kirt Whaley, Bill Bauer, John Hillman, and George Starr.
Background: Joe is one of only three surviving Charter Members of MDCA. He has been actively involved in the organization since attending the first decoy show held in Ottawa, Illinois in 1966, and has attended every show since, serving on the MDCA board for over 35 years.
Other Involvements: Joe is also a Charter Member of the Duck Call Makers and Collectors Association, Minnesota Decoy Collectors Association, The Great Lake Decoy Association, Great Lake Fish Decoy Collectors, Member of NRA, Pheasants Forever, Delta Waterfowl, and a Ducks Unlimited life sponsor. He assisted his wife, Donna Tonelli, in the development of three major books on sporting collectibles; Top of the Line fishing Collectibles, Top of the Line Hunting Collectibles, and Fish & Fowl Decoys of the Great Lakes. Since 1980 he has worked as a decoy consultant for Investment Rarities in Minneapolis, MN, and from 1985 as the Midwest Representative for Guyette & Deeter.
The Collector: Having started to collect in the early 1960's when he was just 16, Joe has handled 10's of 1000's of decoys. He has built a private collection that includes 600 decoys from all the major hunting regions as well as game calls, wildlife cover art, fish decoys, fishing plugs, fishing reels, shell boxes, gun powder tins and all hunting related items.
Contact: Tonelli47@hotmail.com or call (605) 481-2811