Dave Kneebone, Member Development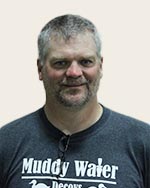 Spring Valley, Illinois
Member since: 2009
My interest: As an avid duck hunter on the Illinois River, my interest in decoy collecting developed after attending a small show with Joe Tonelli in 2006, seeing his wonderful collection, and listening to stories about the history of waterfowling along the river.
Background: I live Spring Valley, Illinois less than a mile from the Illinois River where I grew up hunting and fishing. In addition to our decoy business (Muddy Water Decoys), I am a painting contractor which gives me the flexibility to pursue different opportunities with decoys in addition to spending most every day hunting with my dog come duck season.
Other Involvements: I am an active sporting collectibles dealer through Muddy Water Decoys and sponsor of the Illinois Valley Hunting & Fishing Collectibles Show. I am also an active member of Minnesota Decoy Collectors Association, Great Lakes Decoy Association, Duck Call Makers & Collectors Association, Member of Ducks Unlimited, and attend six Decoy Shows per year.
The Collector: My favorite decoys are Illinois River, but I also enjoy a wide variety of decoys from Canadian birds to Factory, East Coast, etc.
Favorite Decoy: Charles Perdew Bluebill with Edna paint with an unusual stamped weight.
Contact: muddywaterdecoys@yahoo.com or call (815) 878-5633