Al Steffen, Show Operations & Event Security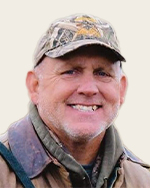 Silver Lake Wisconsin
Member since:
2001
My interest in collecting began with a love of waterfowling, history and art. I had acquired some decoys but knew next to nothing until I went to my first decoy show. There, I was fortunate enough to strike up a conversation with a long time member of this association who became both a mentor and hunting partner.
Background: Al has spent thirty years working as law enforcement but originally he is country kid from Northwestern Wisconsin.
Other Involvements: Al coaches youth shotgun sports and is involved with versatile hunting dog training and handling. He is a member of the VDD (Verien Deutsch Drathaar) association and has a five year old Drathaar with whom he spends a lot of time chasing birds in the fall.
The Collector: Al started acquiring decoys in the 1990's but did not consider himself as an actual collector until he bought a table for his first show in 2001. Initially, he had a broad Wisconsin focus which later narrowed down to Lake Koshkonong, its history and decoys.
Favorite Decoy: A pair of Canvasbacks used at the Lake House.